Connecto 2019 - Business cooperation with diaspora
WELCOME to business meetings "CONNECTO 2019 - Business Cooperation with the BH Diaspora"!
INTERA Technology Park Mostar, together with our co-organizers and partners, cordially invites you to CONNECTO 2019, our inaugural event to facilitate business meetings and networking opportunities between Bosnian-Herzegovinian diaspora and domestic entrepreneurs. The meetings will take place on Thursday, July 25, 2019, at our Mostar - Bišće Polje location.
We seek to learn and grow from the real-world experiences of B-H diaspora entrepreneurs and their businesses. The most important aspect of the event, however, is to connect with entrepreneurs and business leaders with a positive outlook, who focus on making the best of the present in order to seize future opportunities.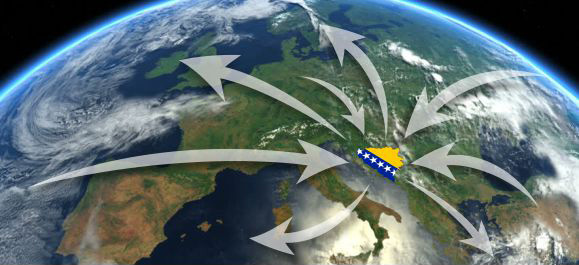 We aspire to a new Bosnia and Herzegovina in which its people are empowered to:
Create innovative products and solutions;
Launch business projects quickly and efficiently;
Export their products and services worldwide;
Create new professional opportunities and challenges for our youth;
Generate new, well-paying jobs;
Increase the local standard of living and the quality of life;
Provide support to the many hardworking professionals and inspire them to lead;
Utilize and maximize the extraordinary potential of the Bosnian-Herzegovinian workforce.
If you share our vision for Bosnia & Herzegovina - this is the event for you. Join us!
WHY PARTICIPATE?
Our goal is to enable diaspora and local entrepreneurs to efficiently learn about new business opportunities and potential partnerships. We believe that the diaspora entrepreneurs will benefit from learning about domestic manufacturing and service capacities, while domestic entrepreneurs will welcome opportunities for business internationalization.
By registering on this platform, you can preselect interlocutors consistent with your own interest. These selections will ultimately generate a personalized schedule of meetings, which you will receive by e-mail the day before the event.
The following sectors will participate in the event (however, entrepreneurs from all sectors are welcome, regardless of specialty):
digital technologies (software, multimedia, telecommunications)
manufacturing and processing (metal, wood, plastics, textile),
intellectual services (engineering, design, marketing)
civil engineering,
energy,
tourism, catering, sport and recreation,
financial technologies, banking, investments and real estate,
agriculture, food and wine,
retail and consumer goods.
IMPORTANT DATES
July 15-24, 2019 - Profile completion and B2B meetings scheduling period
July 24, 2019 - Online registration closes; personalized schedules transmitted to participants
July 25, 2019 - CONNECTO 2019 International B2B meetings
Bilateral Talks
Participants

142

Meetings Requested

191

Meetings Accepted

75
Profile views
Before Event

2006

After Event

179319